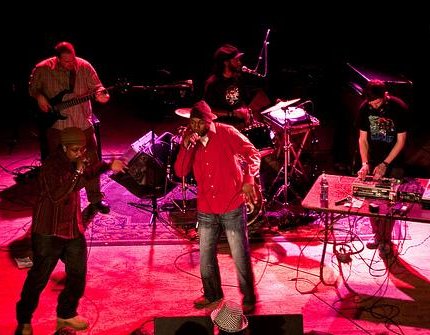 In 2005, dumate made their debut with the self-released album, dumate Rite: The Known Knowns. In the four ensuing years, core members Laduma Nguyuza (aka Dudu Stinks) and drummer/vocalist Jah Boogie continued to tighten up their live show, and expanded their ranks to include bassist Bobby Peru, rapper/producer D.L.O. the Iceman, and producer/MPC wizard Man Mantis.
Their second album & World Around debut, 2009's We Have The Technology, was released to widespread acclaim, eventually going on to win Urban/R&B Album of the Year at the 2010 Madison Area Music Awards.
Though the band itself has largely dissolved since core members Man Mantis and Dudu Stinks left Wisconsin, the members continue to reunite whenever possible to release poignant, powerful singles via Bandcamp.
dumate
We Have the Technology

After years of honing their live show, dumate return for their second full-length album, We Have the Technology. Incorporating a live rhythm section with the MPC artistry of Man Mantis, this is a dense, catchy and ambitious blast of hip hop. Emcees DLO and Dudu Stinks ...